Dad had a habit for coming back into the apartment after he left late for work. Most weekdays, Rory and I watched the act as we sat at the kitchen table late for school eating Kellogg's corn flakes or burnt toast (not Mom's fault. Toaster was on the fritz, everything came out dark). Like Dad, we were two lazy asses. Mom prayed we all would leave the house and talked to herself while Dad looked for his pants belt or his money clip. Dad didn't carry a wallet because he didn't like the lump it created that wrinkled his suit's pant's pocket. Dad usually didn't need subway tokens in the morning because he used to sneak hail a cab on York Avenue to go to Battery Place during the same period he hadn't raised Mom's house money in five years.
When Dad looked for his belt or money clip, Mom yapped at the sink – curse words scattering in the air while washing the dishes she took away from us quickly during our last bite or spoonful of cereal. Dad wouldn't talk to himself but he mumbled under his breath some personal language of disappointment.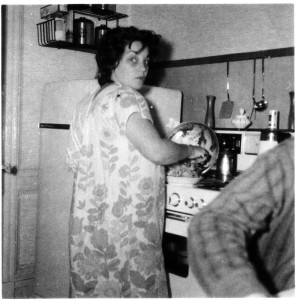 Sometimes, Dad had a load-on the previous night, and before he went to bed after looking for something to eat he took a money ball out of his pocket that never made it back onto his money clip, and he hid it instead of putting it on his dresser. Sometimes, Mom would find the money ball in Dad's hiding place and change the hiding place. When these two things happened, Dad spent a great deal of time looking for the money ball, but he couldn't let Mom know he hid the money, at the same time, he slowly came to the realization Mom took it and re-hid it, and he couldn't do anything about it because he knew he never should have hid it in the first place. I remember my neck hurting in school after spending early mornings at our 83rd Street family circus.
"I Hate the Dallas Cowboys – tales of a scrappy New York boyhood."   My book release party is Tuesday, October 14th @ Cornelia Street Cafe @ 5:30pm – 8pm . My special guests: Leslie Goshko & Adam Wade.  I'll also read and sign at Barnes & Noble, 150 E. 86 St on Friday, October 17th@ 7pm in the Yorkville neighborhood on the Upper East Side. You can pre-order the book online at Amazon and Barnes and Noble.
Early praise for the book:
"Thomas R. Pryor has written a sweet, funny, loving memoir of growing up old-school in a colorful New York neighborhood. A story of sports, family, and boyhood, you'll be able to all but taste, smell, and feel this vanished world."
Kevin Baker, author of the novels "Dreamland," Paradise Alley," and "Strivers Row," as well as other works of fiction and nonfiction
"Tommy Pryor's New York City boyhood was nothing like mine, a few miles and a borough away, and yet in its heart, tenderness, and tough teachable moments around Dad and ball, it was the mid-century coming of age of all of us. A rousing read."
Robert Lipsyte, former city and sports columnist, The New York Times
"Pryor could take a felt hat and make it funny."
Barbara Turner-Vesselago, author of "Writing Without A Parachute: The Art of Freefall"
"Pryor burrows into the terrain of his childhood with a longing and obsessiveness so powerful it feels like you are reading a memoir about his first great love."
Thomas Beller, author of "J.D. Salinger: The Escape Artist"