Lately, I've felt like a hobbit in a world of texting giants. Let me explain. About two years ago, I participated in a documentary film called Among the Giants by a fantastic film maker named Cory Tomascoff. The film explored the challenges of being a smaller person trying to get around the busy streets of NYC.  The goal of the film was to show how important adaptive equipment can be.  For example, my wheelchair lamp makes it safer for me to travel any time of day. Recently, however, I've noticed another danger: how unfocused many pedestrians are as they text while they walk.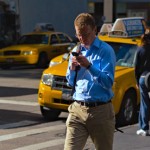 This past Thursday, I was just leaving work and waiting to cross the street to meet my Access-a-Ride van. I was waiting for the walk signal when, in a matter of seconds (probably milli-seconds), I got pummeled from behind. Someone fell over my wheelchair and crashed into the left side of my body. As with any shocking moment, I momentarily closed my eyes, and when I opened them I saw a man of medium-build getting up from the ground. He ran behind my wheelchair and began to apologize. "I didn't even see you there," he said (always a strange statement considering there is a three-foot pole protruding from my chair).  I couldn't tell if he was being sincere. "You really have to pay more attention. There are many people on the sidewalk besides just you," I said. I don't think he liked my response. "Whatever, I said I was sorry," he replied, and then pulled his cell phone out his left pocket and began texting while he crossed the street. By this time, I had missed the light, but that was the least of my worries. I needed to make sure I wasn't hurt. I didn't feel too much pain at first, but then I got a piercing sensation in my left knee. Please don't let my knee be fractured, I prayed. I started thinking about my new job and how I'd hate to take time off just yet, not to mention how hard it would be to manage with a broken knee.
When I finally got settled on the van, I started stretching my leg. The pain became less sharp and my knee began to throb. I knew this meant that it was probably not a break, just some bad bruising.
I got home that night, and while I was lying in bed with my swollen knee, there was a NY1 segment about the dangers of texting and walking. The sentiment of most of the people they interviewed said it wasn't dangerous at all.
The next day I noticed how much I maneuver around texting walkers. I truly believe that people are not texting and walking to hurt anyone intentionally; it's just a habit of our busy lives. But I need to be as vigilant as I can when it comes to spreading the word. In the second it takes you to look down to respond to a text or to answer a call, you may seriously injure someone right in front of you.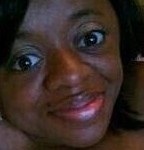 Tamara Morgan is an art therapist and social worker in the South Bronx and a graduate of NYU's Steinhardt School for Art Therapy. Diagnosed at birth with osteogenesis imperfecta, a condition that makes her bones abnormally fragile, Tamara writes about conquering NYC as an individual with a disability.