It's a long way from Chelsea Harbor and the football club which he owns but
Russian billionaire Roman Abramovich knows New York is the best place to be and
has docked his yacht "Eclipse" on the Hudson River.
It's the world's largest Yacht and measures 557 ft in length. The cost of this
moving city is estimated to be 1.5 billion but that's just a drop in the ocean
for this Russian billionaire and his lavish lifestyle.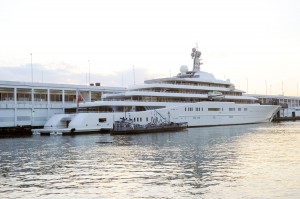 Why Ambramovich has decided to dock here in New York remains something of a
mystery but rumor's persist he is here to visit his pregnant girlfriend.
Insider's tell AaNY: "There is a lot of coming and going from the vessel and
people are boarding and disembarking
Abramovich is very concerned about security and the yacht is heavily guarded.