Ask any New Yorker and they will tell you they love Grand Central Terminal. Today as the Grand Old building celebrates its 100th birthday we can thank Former First Lady Jacqueline Kennedy for preserving this magnificent piece of New York history. In 1975, when Grand Central was threatened with demolition, it was Jackie Kennedy who lent her support to the preservation cause and began her involvement by joining the citizens committee at the Municipal Art Society. Soon Jackie became the public face of the campaign and provided enormous visibility to the cause. Eventually by standing up and speaking out for the terminal's preservation Jackie managed to save Grand Central.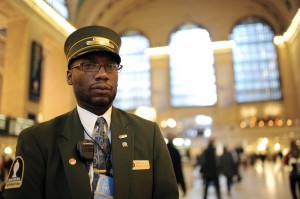 Jackie Kennedy is not the only high profile person who fell in love with Grand Central. Filmmaker Alfred Hitchcock was totally enamored by the building and used the Terminal as often as he could in films. Gregory Peck, Ingrid Bergman, Cary Grant, are just a few of the stars who helped Grand Central look Grand by appearing in movies shot at the Terminal in Technicolor and the ultra-wide screen process of Vista Vision.
Other legends who've have appeared at the legendary site include Fred Astaire, (who danced up Track 34 in the MGM movie "The Band Wagon."), Ginger Rodgers, Shirley Temple, John Wayne and Jennifer Jones. All movies were shot on track 34 because it is the only platform without pillars.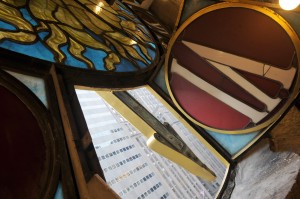 Grand Central is one of New York's most fascinating places. It is actually not a railway station but a Terminal and a place where trips not only end but dreams  begin. Every day more than 700,000 people pass through this landmark which equals the entire population of Alaska and covers 49 acres – from 42nd Street 97th Street and encompasses 33 miles of track. The Terminal is also one of the most successful shopping centers in America.
Grand Central is a city unto itself, 700 trains run each day, covering 400 route miles, and serving more than 120 train stations. Yet, more than being home to just trains and commuters Grand Central is one of New York's most beautiful buildings. The grand staircases were modeled after those of the Paris Opera, and the glass catwalks are considered one of the first and finest examples of 20th century architecture providing ventilation, illumination, and transportation from one office tower to the next.
The building is filled with history and wonder. Look at the statuary surrounding the clock on the south face of Grand Central and you will discover Mercury, Hercules, and Minerva who represent the railroad via their godly claims to speed, strength and intellect.
Inside and out Grand Central is full of surprises. On top of the Information Booth clock, there is an acorn. And throughout the Terminal – engraved in the marble and on every lighting fixture are acorns and oak leaf clusters representing the Vanderbilt family symbol: "From the acorn grows the mighty oak."
Every nook of this legendary master piece provides an unbelievable statistic. The lost and found gets more than 2,000 missing pieces a month, 80 per cent of which are returned to their owners. Items have included everything from an urn of cremated ashes to a barking basset hound – both ( Ask a New Yorker is happy to report) were returned to their owners.
Despite its 100 years Grand Central was truly ahead of its time in terms of handicapped access. All levels, floors, track platforms can be reached by elevators and ramps – and there is never a need for a staircase. This easy access happened because the building being constructed with steamer trunks and train cases in mind.
Everything about Grand Central is impeccably maintained and hardly surprisingly every clock from an antique 1913 to a state of the art digital is set by the atomic clock in the Naval Observatory in Bethesda, Maryland, making each piece accurate.
If you have no reason to take a train or even if you do please take a wander around this New York marvel and while you're at it find out where the secret track to the Waldorf Astoria is?