More than a technique, more than a school of thought, more than a conception of an idea, society relies upon the artist for the artist's unique vision.  From the artist's vision, society gains perspective.  Artists do not show mirror images of reality.  Artists show us how we feel and how we live. Artists align everyday realities in ways to reveal unexpected correlations.  Artists take ordinary media to capture the spirit of the moment and distinguish its place in eternity.  As Jean-Paul Sartre stated, "The artist sees what everyone sees, but what no one else notices."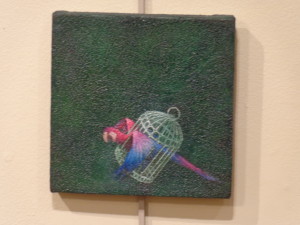 The Art Students League on 57th Street and Broadway maintains a method of instruction that focuses upon nurturing the uniqueness of every artist.  One student, Andrew Markus Bell explained that the school offers an open door policy where the artists are enabled to develop themselves with the guidance of established artists.  Another student, Rachel Lulov Segall, explained that the League works upon the Atelier system.  Instead of a classroom setting, the students work in a studio space with a master artist.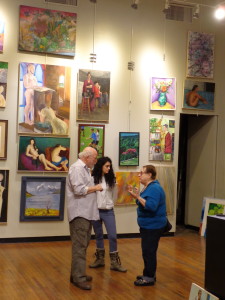 The Art Students League was founded by artists in 1875 and artists remain in control of the establishment.  Instead of considering the League a school, it is a collection of studios.  Each of the 71 instructors are master artists who guide each student through their own journey of development.  Instead of being subjugated to an administration, each instructor maintains absolute autonomy in the class.
On Saturday night, Ask A New Yorker was invited to attend the assembly of the exhibit for Bob Cenedella's class. The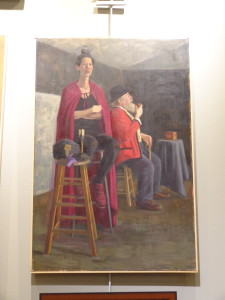 student exhibits are a tradition and for 6 months of the year, every week, the classes exhibit their work in the League's spacious gallery.
From the display of Bob's students, the diversity and variety of the students' work is evident. Bob also prepares a catalogue of his students' work after every class for publication outside of the League.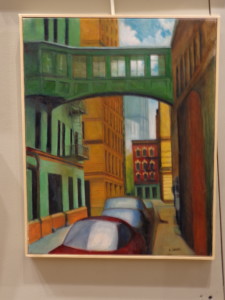 Through the uniqueness of the system, the students often build a lasting relation with their instructors.  One student, Reneé Fineberg, mentioned that she had been taking Bob's classes for nearly two decades.  She informed me that Bob is one of her favorite instructors because of his unique approach and the personal attention he offers each student.
The exhibit for Bob's current class will be conducted at the Leagues gallery on Thursday night between 5:30 and 8:00 PM and the public is welcome to attend.
Garrett Buhl Robinson is a poet and novelist living in New York City.  www.garrettrobinson.us