Attention all carnivores: dinner is served. This meat palace cameos as a café/retail shop by day and badass food hall by dusk, complete with 450 international beers, meat, a communal bar and butcher's counter, more meat, and a garden.
That said, you should eat here. Food rundown: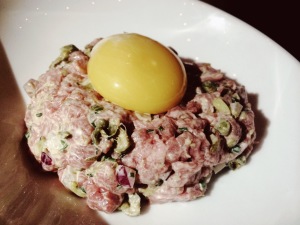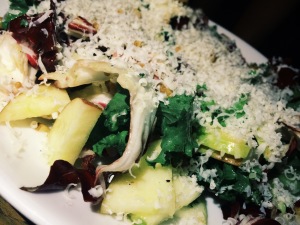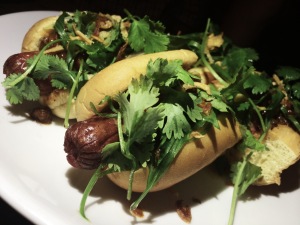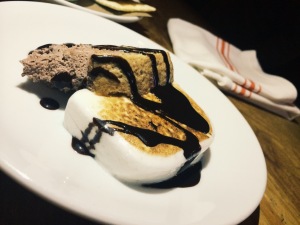 HOUSE BEEF JERKY
Jerky and spice and everything nice. Delightfully meaty.
LAMB TARTARE
Impossibly perfect texture. A meat party on a plate. Red onions, capers, harissa aioli, and the obligatory yolk.
CHICORY AND RADICCHIO SALAD
No meat here. Just chicory, radicchio, candied walnuts, maple vinaigrette, and a layer of aged cheddar.
CANNIBAL DOGS 2.0
Meat topped with more meat. "Tiger-style" dogs topped with spicy tripe chili, scallion, Chinese mustard, and something green.
CHORIZO-RUBBED HALF PIG'S HEAD FOR TWO
Or one, if you're feeling sassy. Self explanatory. Comes with corn tacos, crema, and a side of self-loathing. But not really.
S'MORES ICE BOX CAKE
Pull yourself out of the food coma with a chocolatey, marshmallowy kick to the tastebuds.
PB&J PARFAIT
For all you gluten free nerds.
Chef Francis Derby kills it (pun intended) on a daily basis with lunch and brunch at the East 29th street OG outpost along with a brand-spankin-new location in Gotham West Market, both open seven days a week for your carnivorous pleasure. No rezzies accepted for parties less than six, so get in early – it's worth the wait, we promise.
The Cannibal Beer & Butcher
113 East 29th Street between Park & Lex
212.686.5480
www.cannibalnyc.com