Market to table, meet SoHo. Cool cat Matt Levine and his indieFORK crew along with Michelin starred chef Joe Isodori have made their mark on the downtown foodie scene with the arrival of Chalk Point Kitchen, a blasé ode to all things local. In summary, crazy good home-grown fare and a kick-ass cocktail program are what's happening here. Let me break it down for you.
I've been around the block in the NYC food scene. I get the whole "we're fully committed" thing, the allure, the expectations, and the questionable FOH attitude that come along with the opening of city hotspots and sometimes trail longer than is admittedly necessary. If you're looking for that, keep it moving. CPK's conviviality and generally chill atmosphere keep the focus on what's really important, the element that everyone seems to forget: the food. It's all done in an effortless fashion; the décor, Biggie on shuffle, Matt floating around from table to table, shaking hands, tasting this and that. Raving about the grilled peaches that came in this morning. (Yeah, they were unreal). An expertly trained staff not missing a beat. Menus surely designed by someone with an eye for typeface. Things one can't help but appreciate. Try not to swipe the adorably mismatched tableware. Anyway, let's get to it.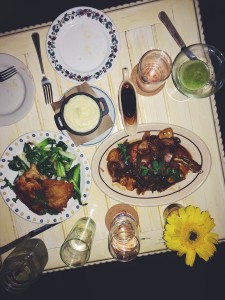 A thick-cut 16-oz pork chop with all the accoutrements is aggressive for a 110-pound girl, but when in Rome, right? No regrets. This perfectly seasoned, ultra-juicy Berkshire chop with pickled peppers, rosemary, and Yukon gold potato purée is next-level. Get that. For those who prefer a bit of smokiness in their lives, go for the North Fork duck breast flanked by grilled spring onion, amarena cherry, and chimichurri. You'll not be disappointed. The real decision? The 18-or-so "Veggies to Share" situation; yes, the menu's seasonal nature means things change up frequently, but the adventurer in all of us nods in approval at Isidori's creative take on otherwise simple sides.
Okay, cocktail time. The kale martini is everything you've dreamed of, if you've ever dreamed of kale martinis. There's a speakeasy downstairs. It smells of rich mahogany. Enough said.
Take a first date here, round up the girls for a plate-sharing bonanza, take mom and dad while they're in town. Save room for dessert. Go forth. Foodstagrams welcomed.
Chalk Point Kitchen/Handy Liquor Bar
527 Broome Street
212.390.0327
www.chalkpointkitchen.com