If Experimental got a mod Gallic facelift, traded craft cocktail whizzes for jaunty sommeliers, and perfected the art of in-house pickling and charcuterie-ing, let's just say it'd be a force to be reckoned with.
It happened. On Centre Street. And you should go.
The folks at ECC have gotten themselves a one-way ticket on the bistrot train, bringing Paris to NYC at what seems to be prime time in the city's French restaurant boom. Compagnie des Vins Surnaturels, which seats 70 and boasts a 21-page carte des vins featuring over 600 varietals, is counterpart to its original location in Paris and proud new member of the London-based Experimental Cocktail Club family. The roster includes Chef Armand Arnal of Camargue's Michelin-starred La Chassagnette, sommelier extraordinaire Fabien Suquet, and Telepan and MP Taverna vet Tibor Kogler at the helm. A refreshingly concise one-pager showcases the semi-open kitchen's creations, offering market-driven French classics with a slight Mediterranean influence. We're talking homemade terrines, braised octopus, a killer curated cheese selection, and succulent tartares to please the pickiest of palates.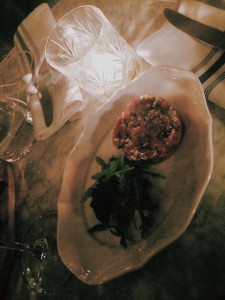 Post-workday Pinot's generic rap is no more; swing by Compagnie for a hand-selected glass of your wildest fancy from Suquet's extensive cave whilst lounging atop a leather coussin at the two-tone marble wood-topped bar, or impress a date in one of the cozy nook-ish spaces conveniently concealed by industrial glass wine cases. Plush banquettes line exposed brick walls accented by gilded web-like wallpaper for a day-to-night setting revered by sippers of all sorts. To put it bluntly, go now. That duck confit isn't going to eat itself.
Compagnie des Vins Surnaturels
249 Centre Street
212.343.3660
www.compagnienyc.com