You should believe in Superman, he's real and found in the soul of Danny Paradise. Able to stretch legs and arms around the planet, hold it near his heart and heal what we have weakened over time. Danny, a musicial prodigy, healer, leader, planetary Shaman and sage, yoga chief, he's got it all and gives it to mankind for the good of all.
Special thanks to:
Juillet Hanlon
What inspired you to become a musician and composer?
When I was growing up in the '60's it was a time of amazing music with artists like The Beatles, Bob Dylan, Stevie Wonder, Muddy Waters, Cat Stevens, James Taylor, Simon and Garfunkle, Joni Mitchell etc and I was drawn to learn to play guitar. I had a brilliant music teacher for a couple of years who taught me the basics. He also taught me how to listen to a music recording and figure out the chords and musical style. That interest that began when I was 12 years old has never stopped. Later in my life I began performing in clubs and bars in Hawaii and gradually started composing my own songs. I also started recording around the world in Nepal, Cairo, London, Los Angeles, New York, Bali…Wherever I was at the time that I would come across musicians to jam and recording studios. I've also been traveling the world teaching Yoga since 1979.
What do you love about children?
They live completely in the moment. They're spontaneous and free. They don't have the neurotic anxiety, fear and worry that we tend to create as adults…However they can quickly learn to imitate us as they grow older…
How did you come to work with Children of the Forest and Ceu D'Ellia?
In 1991 I went to the Brazilian Amazon near the Peruvian Border with a few friends from around the world. We had been invited to participate in Shamanic ceremonies with new friends in Cruzeiro Do Sul – a town and region in the furthest western edge of Brazil very close to the Peruvian border…
Over that time we went on a boat journey for 7 days into the Upper Amazon. Our Brazilian hosts were not used to a group of Yogi vegetarians. They were a little concerned about what food they could find us up the rivers. They called one of their friends in Sao Paulo and asked him to come meet us and bring some health food from the city. That friend was Céu D'Ellia. He was a wild Brazilian and he had been participating in Shamanic ceremonies for many years. During that journey up the Upper Amazon with us, he was always drawing and doing caricatures of everyone on the trip. We learned he was an animator and later I found out he was animation director for Steven Spielberg and Walt Disney feature films.
Céu did some drawings for me for my first DVD that I included in the booklet for the film. That DVD was a visual and musical journey including Yoga demonstrations in remote natural settings as well as in (and on)Temples in Burma, Nepal, Indonesia, Thailand, Canada and Hawaii.
When I was working on my 2nd music CD, Céu kindly offered to do original drawings and graphic design for a booklet with lyrics, photos and stories…
Around 1994/95 I was teaching Yoga in Bali and Bob Weir of the Grateful Dead came to do Yoga with me. I had been introduced to Bob by Inshirah Mahal, the wife of the great musician Taj Mahal. Inshirah studied Yoga with me on Kauai, Hawaii. Sometimes I did classes at Inshirah and Taj's house.
After Bali, Bob was on his way to Thailand. I was going there as well so we met up in Bangkok to carry on doing Yoga and traveling. We journeyed south to Krabi Province and Bob told me his old friend Matthew Kelly was coming to meet us. Matthew is a brilliant musician, singer, harmonica player, guitarist and song writer. He had played quite often with The Grateful Dead as well as in bands with Bob Weir and in well known bands of his own. We did some performances together…in a cave in Railei Bay in Krabi Province and in a funky bar on the beach. Of course when people heard that Bob Weir of the Grateful Dead was performing they all came.
Matthew and his lovely wife Mary lived in Thailand. Since I return to SE Asia every year to do Yoga retreats and workshops I would often see them. Unbeknownst to me, Matthew and Mary had a philanthropic organization called The Amicus Foundation – (www.amicusfoundation.org) and sometime around 2004 they began supporting Children of the Forest in the North West part of Thailand near the Burmese border.
They told me about the project and others that they were involved in when I would pass through Thailand and in 2013 they invited me to go to Children of the Forest: (www.childrenoftheforest.org) and teach Yoga as well as play music for the kids. I was very impressed with the whole place, the work that they were doing to protect, educate, house, feed and help the children heal from their traumas and experiences. Some were from broken homes or from no home at all…Some of the kids had escaped from traffickers. They were impoverished, border children from Mon and Karen Tribes. They were stateless and had no identity papers even though they were born in Thailand. Children of the Forest was also trying to help each child receive their identity cards so they would be free to travel and eventually work in Thailand without fear of being arrested by police or kidnapped by traffickers who would exploit the fact that they were stateless and therefore have no rights.
They live in the forest in a beautiful bamboo village of children and a few adults and older kids helping out. It's a remarkable place. I thought when I first arrived – Hey, I could live here!
Since I am a songwriter and visual artist I had an idea to go back to Children of the Forest and film a music video to a song I had written.
The following year we came up with the idea to do a documentary on the Children of the Forest as well as the dangers that the children face in the region from networks of Traffickers and criminal gangs. Matthew and Mary decided to finance a week long investigation and filming with a Director named Cathy Pearson who was a Yoga friend of mine as well as two Cinematographers. One was Diego Barraza who was based in the UK. I knew Diego and liked a film on Yoga that he had put together called "Part and Parcel". Also Cathy brought a brilliant Cinematographer that she worked with named Andrei Jewell who lived in Thailand.
Financed by Matthew and Mary Kelly and Amicus Foundation, we all went to Pattaya in Feb 2015 to interview and film the life work of an amazing man named Khun Jaa who had been fighting traffickers in that area for 25 years. He had been involved in thousands of investigations and had personally rescued many children. He had also been shot 3 times and was under constant threat from organized criminal gangs of traffickers. Khun Jaa has a compound outside of Pattaya where he takes care of 40 children he has personally rescued. He houses and feeds them as well as makes sure they are educated and protected. We interviewed Khun Jaa and heard endless stories of the dangers that these children face from sexual predators (mostly European and North American) and local criminal gangs wishing to kidnap them for forced labor or prostitution in Thailand. Khun Jaa's place is called the 'Anti Human-Trafficking and Child Abuse Center' (ATCC).
After 3 days with Khun Jaa filming his work and stories we went off to Children of the Forest to film there as well. I had written a song a few months before about the situation as I understood it from my visit the year before. I had begun recording it and Matthew and Mary heard it and really liked the lyrics and music.
Shortly afterwords Matthew and the founder of Children of the Forest – Daniel Hopson – were invited to give a presentation at the United Nations in New York about 'Children's Rights World Wide'. Matthew decided that we could do a film with my new song (Love Will Rescue You) as part of the presentation at the UN.
I had the idea that the beginning of the film should be animated because of the horrific things that children face through these networks of Traffickers – images that are too difficult or graphic to show with live film… I suggested to Matthew and Mary that we invite my old friend the artist Céu D'Ellia from Brazil to do a script and see if we could somehow link an animated section of the film with live footage from Children of the Forest.
After speaking with Céu and presenting the idea to him as well as some suggestions for animation sequences, Céu came up with a powerful script for the film. I also had been in touch with the great Human Rights Activist 'Jack Healey' (www.humanrightsactioncenter.org) and Jack gave me a few visual ideas for use in the animation as well which I suggested to Céu. Jack ran Amnesty International for decades. Matthew and Mary and The Amicus Foundation decided to fund Céu's work and the project was begun. They used some of the live footage we had already taken and went back to Children of the Forest and filmed the kids as we see them in the film at the end…
So these connections from the Amazon and Thailand led to the animated film 'Love Will Rescue You'. My music producer is a brilliant musician named Bobby Parrs who also coincidentally lives in Thailand. On a remote Yoga retreat on a jungle lake with floating bungalows in Thailand, Bobby recorded two of Norway's most renowned musicians who were on the retreat with us. They are Torbjørn Okland on guitar and Rita Eriksen on harmony vocals. Matthew Kelly played harmonica and Mike Finnigan played Hammond B3 organ.
If a genie could grant you three wishes right now, what would they be?
A world where everyone is cared for, protected, educated, given free Health Care, housed and fed.
A world where there is no more war, where everyone is free, Free of Borders, Free of countries…
A world where Nature is completely protected, restored, renewed, and studied for all the magical medicines that the forests, flora and fauna contain.
What goals do you have for your life and the world?
The same as above! I wish to be able to carry on what I'm doing as well…
Where do you think creativity comes from?
I think everyone has a creative urge that comes from deep within themselves…Perhaps it's the soul wishing to express itself in endless ways. Perhaps it's the Universe wishing to express and experience itself…Some people follow their creative urges and inspirations to express themselves through some art form. Other people seem to ignore their creative impulses and not follow the artistic calling of their soul.
The art forms of music and yoga have obviously been very impactful in your life. Do you feel that the practice of these two forms of expression have influenced your approach to either or both of them?
Both of these arts have influenced each other in my life…I have been playing music since I was 12 years old and I started
Yoga when I was 23. I had already traveled the world when I was 19 years old. I knew I would continue traveling. With the practices of Yoga that I learned from the first Western Adepts; David Williams and Nancy Gilgoff, as well as music as my expression of my dreams and ideas I began traveling the world again when I was 28. This was in 1979 and I haven't stopped traveling since. I have taught Yoga and played music throughout the world. My intention with teaching Yoga is to only go to where I am invited. That has taken me on endless journeys around the world since 1979 – 36 years on the move.
I use to play music in clubs in London on my way from India back to North America. In a Greek restaurant on Fulham Road in London around 1983/84 I met the British musician Dominic Miller. He liked one of my songs that I had written called 'Freedom Fighters' and suggested I come over to his house and record it with him. We became friends and started recording together…Dominic came to Cairo with me for a month around 1987 and we recorded with local players for 4 weeks. That was a wild experience. Just being in the amazing Arab world was powerful… It was a time before the rise of fundamentalism and the country was a beautiful, peaceful place of acceptance. The local people were lovely. (In Cairo we also recorded 'Freedom Fighters' and that appears on my first CD 'River of the Soul'.)
I recognized Dominic as an amazing talent and wanted to record with him whenever possible. He was also discovered shortly after by Sting who was introduced to Dominic by his music engineer and producer Hugh Padgam. Hugh had worked with the Police and on Sting's solo records. Hugh also worked with Dominic on his first major league recording session with Phil Collins. Dominic contributed melody parts to Phil Collins' song 'Another Day In Paradise'. Hugh Padgam also saw Dominic's genius. He recommended to Sting that he audition Dominic as he was looking for a new guitarist. Dominic has been with Sting ever since! Sting calls Dominic 'My right hand…'
Shortly after Dominic's induction in Sting's new band I was passing through London in 1990 and met up with Dominic. Dominic had done Yoga with me when we were in Egypt and he recommended to Sting that he meet me. These were early days for Yoga in England. Very few people had practiced Ashtanga Yoga except in workshops that I had been giving for a number of years. So Sting had thought that
Yoga was for little old ladies in leotards…' I gave Dominic a few of my photos in advanced Yoga positions to show Sting a little more about the practice. Then he wanted to meet me and shortly after I introduced Sting to the practices of Ashtanga Yoga.
That was how I began teaching Sting and his wife Trudie Styler. The following year I was on a tour with Sting and his band in Europe teaching Sting, his band and road crew. Sting introduced me to Paul Simon when they were doing shows together at a festival in Belgium. A few months later Paul contacted me and I began teaching him and his wife Edie Brickell. A little while later I met Madonna through Sting and his wife and that was the beginning of her journey into Yoga. I also taught many people in Sting's network of friends and associates. Through teaching Sting's road tour accountant Mike Mcguinley I was introduced to Eddie Vedder and Pearl Jam around 1992. Mike handled the biggest bands in the world for tours. He recognized the beauty and healing force of Yoga and felt that it would be great for Eddie Vedder and his band to check out especially because they were about to be under a lot of pressure. They had just sold 10 million copies of their first album and had gone from playing clubs to stadiums…Nirvana had just burned out and Mike and his music network wanted to make sure Eddie and the band remained strong and focused for their success…
So it was music that connected me to Dominic Miller and through that musical connection I began teaching Sting and Trudie, Paul Simon and Edie Brickell, Eddie Vedder and Jeff Ament in Pearl Jam, Lyle Lovett, Cat Stevens (Yusuf Islam) and many others in the music and entertainment world.
I also was introduced to Andrea Griminelli via Sting. He's one of the world's greatest flutists. Andrea would do classes with me at Sting's residence. Later Andrea introduced me to Luciano Pavarotti and his girlfriend Nicoletta and I began teaching them as well.
Through Paul Simon I met the brilliant jazz trumpet player Chris Botti and I have taught Chris over the years. Chris also played on the animated film and song 'Love Will Rescue You' as well as other recordings I have done over the years. John McEnroe and his wife – rock singer – Patty Smyth practiced Yoga with me through Sting. Other film directors, artists, designers (like Donna Karan – DKNY) have studied with me over the years. The links between music, the arts, sports and Yoga have been very clear for me.
For everyone, Yoga leads to vitality, clarity, deeper insight, increased perception and intuition…The practices dramatically increase strength and endurance as well as balance and flexibility..These are perfect combinations for working in the arts, music, composing, performing and especially touring. Yoga is cross-cultural. Everyone gains the same results. Through the explorations in the practices of Yoga combined with deep slow, breath, health, vitality and the immune system are dramatically boosted. Anxiety and stress are reduced or eliminated. People come deeply into the present as well as create tranquility and peace in their lives through the deep breath and movement. There are unquestionable, very fast results learning classical practices in Yoga.
Yoga is an ancient evolutionary science designed to create health, equanimity, balance, peace, strength, flexibility and evolutionary consciousness. One purpose of Yoga is 'Fulfilling personal Destiny' and the creation and nurturing of happiness, joy and peace.
It's also a major tool for learning how to age and face transition with energy, tranquility, acceptance, clarity and grace.
Yoga is the ultimate gift to the human race from Nature and our Ancestors.
That's the story for now!
Aloha and best wishes,
Danny Paradise
www.dannyparadise.com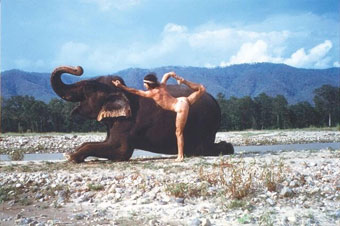 Photograph by Thomas Kelly