If your child is a little too old to be giving his father a mug with "I love you Daddy" scrawled on it in crayon, I have some better options for the upcoming holiday courtesy of Josh Bach, an attractive gift shop that also has a good personality. We have a new location for one of our local post offices, and my report should come in handy because I've seen people come up to the old location, peer in the windows, and jerk the locked door handles hoping they will open. They won't, because the old Peck Slip location has permanently closed! And a new barber shop in a surprisingly elegant space rounds out our most recent openings.
Josh Bach, 14 Fulton Street, (212) 487-9580.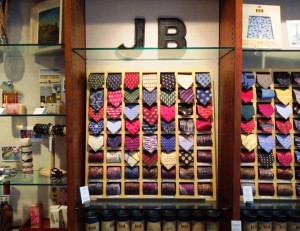 Josh Bach's façade features a picture of a hand throwing a paper airplane, which is appropriate because this gift shop in the South Street Seaport has a sense of humor: check out the boxers with the crabs on them (wink)! The light-filled space across from the Bodies exhibit and next door to the South Street Seaport Museum has many items designed by owner Josh Bach, including unique ties and gifts you won't find anywhere else. Marketing and Creative Director Valentina Guazzoni said everything in the store is high-end and uncommon by design. The items are whimsical, clever and tie in with Bach's aesthetic—not too serious, approachable, wearable.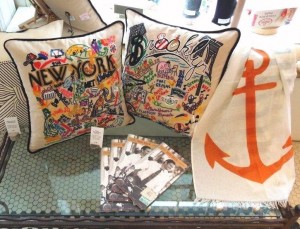 Bach's cheeky designs are on boxers, pens, bow ties and pocket squares for men, but Guazzoni knew the store would need to cater to a larger crowd to remain viable, so she added gift items for women, children, and items that would appeal to tourists. Gifts either are made in New York, made sustainably and conscientiously, or a combination of all three.  Some items are so popular, like the Brooklyn cups, Guazzoni can't keep them on the shelves. "I appreciate everything in this store for its design and effort," she said. Customers seem to agree.
Ray's Barbershop, 46 Park Place, (212) 233-9233
Ray's, which has another location on Chambers Street, has a new outpost at Park and Church that is now serving customers. The space was a bare canvas when they rented it, but months and a complete overhaul later, the interior is a sleeker, masculine version of the classic barber shop.
Owner Ray Tahlov and his team paid attention to every detail down to the barber chairs, a brand that is no longer manufactured. He found the chairs, which were in very poor shape, in different states, and restored them to top condition. "Everything you see here is custom-made," he said.
Services include a haircut, shampoo, beard trim and shaves. Additionally, all haircuts include hot towel and neck shaves.
US Post Office
The downtown US Post Office moved from 1-19 Peck Slip to 114 John Street.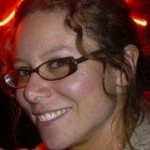 Kelly Rush is the Field Liaison for the Alliance for Downtown New York, the Business Improvement District (BID) for Lower Manhattan. Every other Thursday, she writes about what's up downtown and provides info on everything from where to find great corned beef to where to find great parking.