When Pope Benedict XVI announced his resignation he said it in Latin and
only one reporter was fluent enough in the language of the Roman Empire to get
the scoop of a lifetime. For while only God knows who the next Pope will be and
New York's own Cardinal Timothy Dolan will play a part in the process, when it
came to Pope Benedict's resignation ANSA Journalist Giovanna Chirri got the
scoop of a life time. "I understood it right away. It wasn't hard to understand
after so many years of covering the Vatican." She says.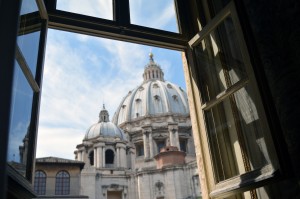 Picking up on the story before anyone else came with a lot of pressure. "My
legs started shaking but I knew I understood it correctly." Says Chirri who like
any good reporter had to confirm with the Vatican spokesperson. When Chirri
could not reach anyone to confirm, confident in her understanding about what the
Holy Father said, she persuaded her editors to run with her scoop of a life time
anyway.'Papa lascia Pontificati dal 28/2.' (The Pope will leave the Papacy on
Feb 28).
According to her Twitter profile Giovanna Chirri is 'an unfashionable Vatican
reporter.' There is however no denying she is a great reporter and also very
modest. Chirri says the Pope made the scoop easy: "Benedict XVI Latin is very
easy to understand." Yet, an entire press Corp missed the scoop and only she
bagged it. The truth of the matter is that not many people speak Latin anymore
though that is changing.
During his Papacy Pope Benedict has promoted a partial return to the Latin Mass
and last year he established the Pontifical Academy for Latin to support the
study and spread of the language.
Far from being a dead language Latin is very much a live and has been on a
upswing in many cities particularly in New York. This rekindled interest is due
in part to the popularity of Harry Potter books where J.K. Rowling uses Latin
phrases for spells.
At least 3 dozen schools in the New York area teach the language of the Roman
Empire including Brooklyn Latin, a high school in Williamsburg, where Latin
phrases adorn the walls and words like discipuli (students) and Magistri
(teachers) are used in conversation.
While only God knows who the conclave in Rome will pick for Pope,  we know 
the next generation of New Yorkers will be well versed in Latin and one might 
even land a job at the Holy See.