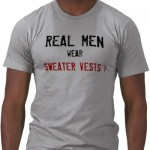 Q: My brother has back problems which make wearing a belt uncomfortable for him. He wears sweaters in the wintertime over his dress shirt, and would like some sweater vests for when it's warmer, to cover over his lack of belt. The problem is, so he tells me, sweater vests in "standard" sizes are not the right fit for him. He's not that tall and quite skinny. He doesn't like shopping and has found that sweater vests tend to run too long on him, which, of course, look stupid. He's in a supervisor position, so looking stupid is not a good idea. Do you know of any companies that have sweater vests for men that look nice (i.e. not too old man-ish; he's only 34!) and maybe come in different lengths, or run shorter? If you have any recommendations of companies that sell good sweater vests, or how to get a custom-made one, I'd appreciate your input!
A: You're in luck! While finding a short sweater vest might seem like a daunting task, there are actually quite a few solutions to your brother's belt-hiding conundrum.
If you're looking to buy off-the-rack, go for European brands that tend to cut for smaller men, such as H&M, TopShop, and Zara. Upscale stores that sell classic menswear (think Brooks Brothers or Paul Stuart) are another good bet, since they tend to pay more attention to fit than a discount or department store might.
Another option would be to have your brother's too-long sweater vests altered to an appropriate length. In New York, the folks at Alter Knit deal exclusively in sweater alterations and repairs. You might also try calling your local dry cleaner or tailor to see if they have someone on hand who performs this kind of service. Keep in mind that altering knitwear requires more skill than, say, hemming a pair of pants, so you'll want to check references before turning over your favorite sweater.
For something one-of-a-kind, theatrical costumers swear by Adele Recklies, who specializes in custom knitting. Etsy also features quite a few of shops selling handmade sweaters and knitwear, many of them at surprisingly affordable rates. Find a seller whose work you admire, and request a quote for a custom order. Not only can they create a vest made exactly to your specifications, but your inquiry will probably make the seller's day!
One final thought? Try suspenders! While sweater vests might do a good job of covering your brother's beltlessness in the spring and early summer, they're not particularly comfortable on a steamy August afternoon. Suspenders eliminate the need for a belt, and better yet, they've made a fashion comeback in the past few years.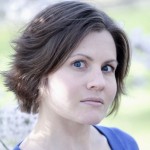 Rebecca Frey is a costume designer, wardrobe stylist, and personal shopper. She has worked on Late Night with Jimmy Fallon, Saturday Night Live, and Conan, and is also the owner of Seek New York, a NYC-based company that provides a friendly, low-pressure approach to style and offers personalized shopping tours with licensed NYC guides. Every Tuesday, she answers your most pressing shopping-related quandaries. Need Becky's help? Email your questions to emily@askanewyorker.com.