Last Thursday night, my husband and I went to a party that Esquire Magazine* hosted at a 23.5 million dollar apartment.  The apartment, known as the ClockTower Penthouse, is a triplex in DUMBO, Brooklyn, and is the most expensive piece of real estate in the borough.  The main floor features four enormous working glass clock faces which also serve as windows and provide 360 degree views of the Brooklyn and Manhattan bridges and the city skyline.  Other special touches include the private massage room off the home gym and the skylight over the bathtub. Guests were encouraged to mingle throughout the entire space, moving between floors via the floating staircase or the glass elevator, your choice.  There were security guards in headsets, cocktail waiters pouring signature espresso martinis, and a surprise performance by Sara Bareilles (who, I must admit, I had never heard of, but I recognized the "I'm not gonna write you a love song…" refrain right away).  Two different women were wearing these: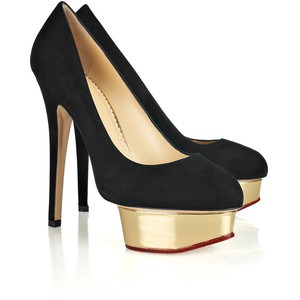 They are Charlotte Olympia satin platform pumps, and they retail for $845.  It was (need I say it?) an Almost Carrie night.
How on earth did we get in to such a party?  Is it possible that Esquire finally discovered a certain smart, sassy New York columnist who writes about life in the SATC industry fast lane?Does this mean that Almost Carrie will soon be featured on the side of a bus?  Or did my mother-in-law win two tickets in a raffle at a charity 5K** in Merrick, Long Island and then pass them along to us because she was busy celebrating her granddaughter's birthday in rural Virginia?
Believe whatever makes you happy.
* The Esquire party raised money for the organization City of Hope, which conducts cancer research and provides cancer care.  You can learn more about it HERE.
** The 5K benefited Forever 9: The Robbie Levine Foundation, which raises money to put defibrillators in public spaces.  To find out more, click HERE.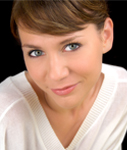 Emily Sproch is a writer and a Sex and the City tour guide.  Each Friday, she chronicles the fine line between reality and fiction in her column "Almost Carrie."