1. Brunch at The Bailey: When walking through the Financial District early on Sunday morning, you'll spot a tour group or two, standing around taking pictures of the New York Stock Exchange – but will be surprised by just how barren downtown can be. Practically alone in this concrete wasteland, you'll walk down Wall Street, looking for a potential eatery, and spot The Bailey.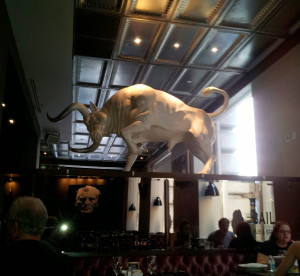 On the corner of William and Wall Street,
The Bailey Pub & Brasserie demands attention with it's blood red, pressed-wax-seal logo, and intriguing decor. Inside, the classic, red leather seats, chocolate wood furnishings, and eye-catching art, will all pale in comparison to the enormous, white marble bull poised just above eye level, near the front entrance. New Yorkers love brunch – who doesn't love brunch – but early enough on Sunday, you'll find only a couple of other patrons as you sit down and peruse the Prix Fixe Brunch menu. Starting at $18.95 – with two drinks included – this beyond reasonably priced brunch, will be exquisite to your eyes and palate.
2. Charging Bull: Walking off your brunch bulge and buzz, you'll traipse down Wall Street, towards Broadway — taking in the sights. The same bermuda shorts, and Canon-camera-clad tour groups will still litter the streets, but now they would have doubled in number; you walk passed, feeling superior to their stopped-in-the-middle-of-foot-traffic ways — but knowing that you're just as impressed by the architecture, that you pretend to be jaded by.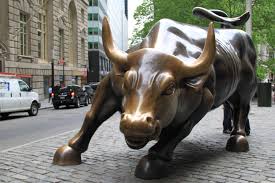 Making your way towards Bowling Green, you're practically bowled over (see what I did there?) by the iconic Charging Bull. This bronze beauty stands alert and angry as tourists crowd around, posing for pictures and fondling his equally impressive bull-parts. You almost want to join the horde, wait in the queue, and grab a snap or a handful yourself – but instead you purchase an adorable miniature from the ideally situated vendors, and continue on your journey.
3. Battery Park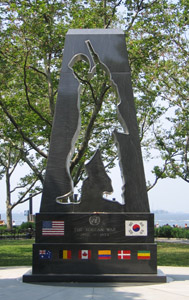 : You've ventured into Bowling Green, seen the beautiful fountain and foliage, traversed across State Street, and find yourself in Battery Park. The grounds will be cluttered with visitors, hoping to catch a ride to see the prettiest 151-ft tall lady around. You'll make your way through the throngs, and amaze at the East Coast Memorial, with the always impressive New York City backdrop – gaze out at the tiny lady from along the waters edge – circle around the Castle Clinton National Monument – find the hidden New York Korean War Veterans Memorial – and ultimately, walk back to the Picnic kiosks in bosque; their advertised, sensibly priced drinks sound like the exact thing you need to combat your impending dehydration.
4. Manhattan By Sail: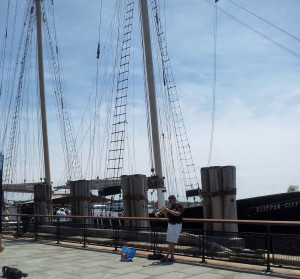 Sitting in the shade with a cup of water (or beer) in hand, you'll notice that it's almost time to board — you're not going on a ferry, but rather have come prepared with a pre-purchased ticket for a ride on The Clipper City. This 158-ft long ship, with masts and rigging reaching up to 120 feet, is the newest addition to the Manhattan By Sail fleet. Walking towards the south end of Battery Park, you get in line with your fellow passengers. As you anxiously await boarding, a gentleman with a trumpet will park himself right next to the ship, to serenade the soon sailors with a little Sinatra.
Aboard The Clipper City, a bar at the center of the ship offers refreshments and snacks, and since a sober Sunday this is not, you'll indulge in their white wine sangria, and prepare for the most breathtaking photo-ops of Manhattan and Ellis Island. An hour and a half of pictures – drinks – conversation with strangers later, you'll be astounded by your capacity to fall in love with New York City.