We all have to go there eventually – the dreaded Department of Motor Vehicles. Even if you don't drive, you need some sort of identification — at the very least so you can buy booze without having to seem like a desperate teenager trying to justify not having an ID.
I have a Florida license and as it turns out, it just expired. This wouldn't be too much of a problem – since I don't drive in New York, and most bars and liquor stores can tell I'm over twenty-one (a big thanks to the places that can't) – but I plan on visiting California next month, and will be driving from San Francisco to L.A. I figured this was a good enough excuse to turn over my old, expired license, and finally become a card-carrying New Yorker.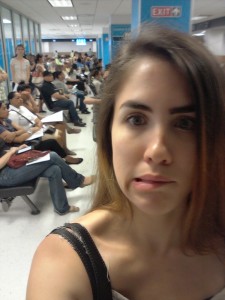 I looked up all the necessary procedures for changing your address, and renewing your New York license – just in case; filled out the forms and printed copies of bills and things that I wasn't told I'd need, but I sure as hell wanted to be ready for anything. I found the locations that provided the aforementioned services, and made an appointment for the closest one; I wasn't about to wait all day at the DMV; I was preparedness personified.
Come Monday morning, I made my way to License Express on 300 W 34th Street. I was a full thirty minutes early and almost excited as I reached the location – until I noticed that the windows were papered off and covered with signs that read, "We Moved!" Why didn't the internet warn me?! No matter, I'd just walk the couple of blocks to the new location; I was still early for my appointment.
The new location was much nicer than the old one – from what I've been told – and there was hardly anyone there. I walked up to an employee by the door and told her what I was there to do. I handed her my appointment printout with a smile – which quickly faded when she said, "you made an appointment for the wrong location." Great – there goes that. She handed me a slip with the address: 366 W 31st Street. Not too far – I walked over and figured maybe I'd lose an hour or two; it was still early.
I raced up the escalator to what I later found out was the new location to the midtown DMV previously located on 34th street. Walking up to an employee, I let him know what I needed, and he went over the cursory checklist.
"Do you have your old license?" Check.
"Do you have your social security card?" Check.
"Do you have your birth certificate?" I need that?
"What about your passport?" Damnit.
I was determined to take care of this; I wasn't about to get discouraged.
Racing through midtown, I  entered the 34th street station – took an N train back to Astoria, sped towards my apartment – rifled through my box of pictures, mementos, and important documents – found my passport, made the trip back to the DMV, and finally got a ticket to be served; B589 – I don't think I'll ever be able to forget it.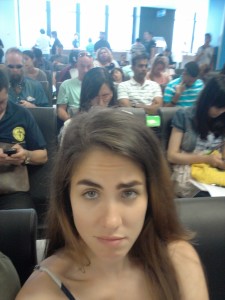 The room was much more crowded than when I first arrived, nearly two hours prior, but I assumed – seeing over thirty servicing windows, and hearing a different number being called every couple of minutes – that I wouldn't have to wait too long.
I picked a corner of the room and stood, staring at the screens that showed which numbers were called, what windows they were to go to, and which numbers would be called next. I had about twenty people ahead of me – or so I thought. The prefix must've implied the service – I heard at least six different prefixes. I had countless people in front of me.
After about an hour, I identified the windows that were assigned to the B prefix, stood in front, and waited. Another thirty or so minutes passed, and it was finally my turn – but first, a lady whose number was called twice and passed over, stepped in front of me, claiming to be next. The courteous, albeit slightly annoyed DMV employee behind the counter, informed said lady that her number was called twice and she failed to appear in the allotted time; she was to go to the help counter where she would be given a new number. She walked away in a stink, and I smiled, handing over my documents – knowing you should always be overly sweet to the people of the DMV; they're capable of both making and ruining your day with the slightest act.
One minute later, I nervously posed for the first driver's license photo I've had to take in thirteen years, and was told to wait for my number to be called again so that I could pay; couldn't take too long – paying was the quick part, right? Wrong. The documents are input into the system by the same person that charges you; the first person you meet is only there to make sure you have all the necessary forms and documents – and in my case, to take your picture.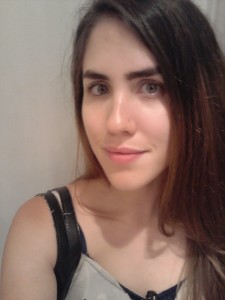 Another hour passed while I stood by the windows with the credit card machines. A seat opened in front of window eleven and I hurried to take it – noticing that this and window twelve were the ones primarily calling the B prefix.
Behind window eleven sat a well-groomed woman in her thirties. I smiled in her direction, hoping my niceness would help to end this endeavor sooner rather than later. Another hour or so passed and as I observed, taking note of her casual pace; when others around her finished with their victim, the next was called almost immediately after — but she just sat, leaned over the partition to chat with her neighbor, scrolled through her phone on the desk, chewed on her nails, and even got up to pace the room behind her.
Once she returned to her seat – as the numbers neared my own – she finally called the next: B586. The number flashed on the screen, followed immediately by B588 – both were to go to her window. She got out of her seat again, only to return minutes later – and was confronted by B586, ready to pay and get out of there.
"I called 588 not 586," she said with certainty – but B586 wasn't having it; he pointed to the screen, which clearly showed his number and her window. She defensively asked him to calm down – as if he was wrong to be upset – and proceeded to take his documents. As I watched in disbelief – anticipating my own uncomfortable interaction with window eleven – my number flashed on the screen; B589 to window sixteen.
I beamed as she stapled my old license to the form, thanked her too eagerly as I swiped my credit card, and waved enthusiastically as I walked out – six hours after I first walked in; good thing New York licenses are valid for eight years.