Reminiscent of artists like Florence and the Machine, Cat Power and Yo La Tengo, The Meaning of Life creates dreamy, ethereal, psych-rock sound from singer/bassist Marta DeLeon and guitarist Christian Gallardo. Following the November release of the band's new single, "I Want To Do With You What Spring Does With The Cherry Trees," The Meaning of Life will debut the music video for the song during a December 12th show at Nola Darling on West 22nd Street in New York City's Chelsea neighborhood.
Gallardo says he wanted the video for the single to reflect New York in a subconscious way: "The beauty of the moment – the best dream that you could have after a bad week or a long day – a sort of contradiction." "While we were filming [the video], fellow New Yorkers were gathering around or trying to sneak a little of what we were doing. I kind of imagine people saying 'why is that girl eating roses in Central Park?'," says Gallardo.
AANY caught up with bandmate Marta DeLeon to talk about the upcoming show:
Can you tell me a little about the video you'll be screening?
This single was entirely shot on the cheap by Christian Gallardo. Mostly his concepts with our friends – one who is a real dancer. Moments and images that are random, vibrant, and absurd in Brooklyn and NYC. It's not a literal portrayal of the song, but it captures the ecstasy and longing that love and living in New York City might make you feel. The friends were playing themselves in those moments. Nothing was too out of character. Lately more people want to experience your music in this medium . So it's a good way to express other sides of our band and capture the audience.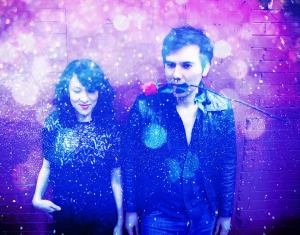 What's your favorite venue to play in NYC?
We played this Slackgaze festival hosted by our wonderful friend Winston Scarlett and his collective who are hosting the show at Nola Darling, their newer space. It was a DIY outdoor venue in a yard in Bushwick. A lot of people had never heard us and we went on at 1:30am and the kids were all cheering and dancing. It was a whole three days of really good music and everyone stuck around and had a really good time. It's a nice vibe to build on and experience than playing in the usual clubs. It depends on the bill for more traditional venues and other things you can't control.
How would you describe your sound?
Hardest question for any band to answer! Jesus and the Mary Chain meets Blondie or Sade? With some Jefferson Airplane, Suede, Cat Power? We like pop from Motown – to the
80's to now – so that's something that's ever present. A good break down, a groove, a heartfelt lyric. Tell me a little about how the band formed. I was in the ashes of breaking up with my other band and answered a craigslist ad that Christian had posted looking for a female vocalist/collaborator influenced by Jesus and the Mary Chain, New Order, and Mazzy Star, if memory serves me right. I had answered about half a dozen ads but Christian wrote back right away and had a sense of humor in his email and also noted that my name was very Spanish and said some cute things about being from Chile. He also lived close – I was in the middle of college finals too and thought it was an easy venture to check out. We were just jamming and doing little recordings in a hot summer room, drinking iced coffee for a few months before we got a drummer and started playing out in 2012.
What are some of your biggest influences and inspirations?
I like Wye Oak, Land of Talk, ESG, Fleetwood Mac, Yo la Tengo & Electrelane. I played more aggressive and somewhat instrumental music when I was just playing bass and not singing in my first band days. But songwriting structure is most important to me these days and it's hard. We both like movies and that does inspire us in indirect ways. Almodovar & Nick Roeg are my favorites. Seeing so much music like our closest friends play or Blonde Redhead lay it down after so many years at Bowery Ballroom is a check for being a good performer and band. We also try to do a cover at every one of our shows. We covered everything from KC and the Sunshine Band, Madonna, INXS, Nirvana to the Cure – so learning those songs seeps into your way of phrasing and writing. It's a real treat to make them your own and people who may have never seen us can connect to that.
What is the writing process like for The Meaning of Life?
Christian and I have always been collaborative and take that to the practice space with the drummer we are working with. So a kernel or sketch from his guitar riff will influence me and the drummer to come up with vocals etc and we will work from there on
the structure. It can happen quickly then we are a little more OCD when we record it in the studio, but that's mostly with overdubs and arrangements. On a nerd note, we communicate ideas through references like "This one is the Oasis type song" and sometimes that will be the working title of the song until it's recorded. We also use our phones, etc. to record practices so we can work on them on our own percolation, i.e subway rides. People are busy in NYC so this is band practice homework. Extension part deux.
Where do you see The Meaning of Life in a year?
Banging out our best songs and playing our best shows. The sound will change some and it has and it should. Hitting the road for mini tours or SXSW. Opening up for Blondie or Blonde Redhead…

The Meaning of Life Video Screening at Nola Darling
Where: Nola Darling // 161 W 22nd St, New York NY
When:Friday, December 12th // Doors: 8pm, Set: 10pm+++*