Just when you thought "classy" and "bacon tater tots" didn't belong in the same sentence, The Eddy popped up on East 6th and proved us all wrong.
Wallflower duo Jason Soloway and Chef Brendan McHale, along with their uncanny talent for hand selecting a ridiculously perfect staff, have made their mark on Curry Row with the arrival of this fresh, American nouveau gem.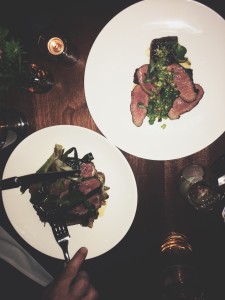 The cozy, whitewashed brick and wood beam space bears a name paying homage to New York's pioneership as fly fishing capital of the country and a nod to McHale's favorite pastime. With aesthetically astounding dishes highlighting land and sea (and yes, bacon tater tots), this East Village newcomer boasts inventive small plates and a kick-ass tasting menu for those who prefer to let the chef take the reins. If you're ordering à la carte, do yourself a favor and start off with the beef tendon puffs topped with charred onion crème and trout roe pearls (texture heaven) and those tots (given) dolloped with grain dijon and English pea purée. Be sure to put in that second order before you've finished. Cleanse your palate with one of Kelvin Uffre's shaken or stirred concoctions (a Maison Premiere vet, so you know his juleps are bangin') and get in an Instagram or two of his ornately carved garnishes. Who knew citrus could look so chic?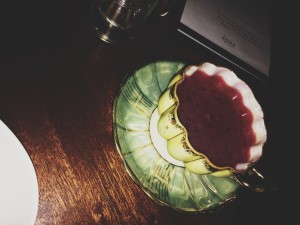 Alas, part deux. Sharing is encouraged, although nobody will blame you if you politely decline. Lamb two ways, anyone? We seriously dig the succulent loin and belly with favetta, panisse, and mint, second only to the grass-fed ribeye with St. Albray fondue and crushed potatoes. Luckily, there are only two desserts on the menu; avoid playing favorites and order both. Everybody loves a good cardamom panna cotta and malted milk ice cream.
And yes, that is a cocktail in a fluted, gold-rimmed teacup. Pinkies up. Now excuse us while we dream of falernum (and bacon).

The Eddy
342 E. 6th St.
New York, NY 10003
(646) 895-9884