Eddie Ekis's mom worked at the local Five & Ten store. You know–the ones with the mechanical jalopies and wild palomino horses outside the store that cost a dime a ride. On Friday night, Mrs. Ekis, the Assistant Manager, was responsible for closing the First Avenue store at 9 PM. With a little tidying up, that put her home about at 9:20.
Every Friday night, starting in 1969, when most of us were 15 years old, the cocktail lamp was lit at 5 PM at the Ekis house, and the first wave would roll in. There were six to eight regulars, a poker game that always got going, and music blasting from the turntable in the back bedroom: J. Geils' Looking For a Love and Floyd's Hotel; Jeff Beck's Truth; Humble Pie's Thirty Days In The Hole; Black Sabbath's Paranoid; Black Oak Arkansas' Jim Dandy; Jacksons' Never Can Say Goodbye; Led Zep's Everything; The Who's Who's Next and Quadraphenia; The Beatles' Rubber Soul and Revolver; Sly Stone's Everything; Billy Preston's Outer Space; The Stones' Let it Bleed and Sticky Fingers; and every worthwhile 45 single from 1964 through the mid '70s.
Ekis had two monkeys, Chiquita and Toto. They loved beer and lived in the kitchen and had a terrace out the window when the weather was nice. Eddie caged in the small tar roof of the beauty parlor under his second floor apartment which extended out his kitchen window five feet towards York Avenue. A caged veranda for everybody. If the weather was right, we'd move the chairs out there and hang out with the monkeys, but if they didn't like the music they went a little nuts and started pulling our hair, so we had to watch what we played (they were not big fans of Black Oak Arkansas).
Most of the guys in the St. Stephen's football team photo passed through the Ekis house on a regular basis. At five to nine, everyone knew the drill. Eddie was a neat fellow. The brown bags came out, all the empties went into the garbage, and then Eddie would move to the turntable for the "Go Out" song. We'd march out of the building singing at the top of our lungs on our way to somewhere never as much fun as the Ekis apartment.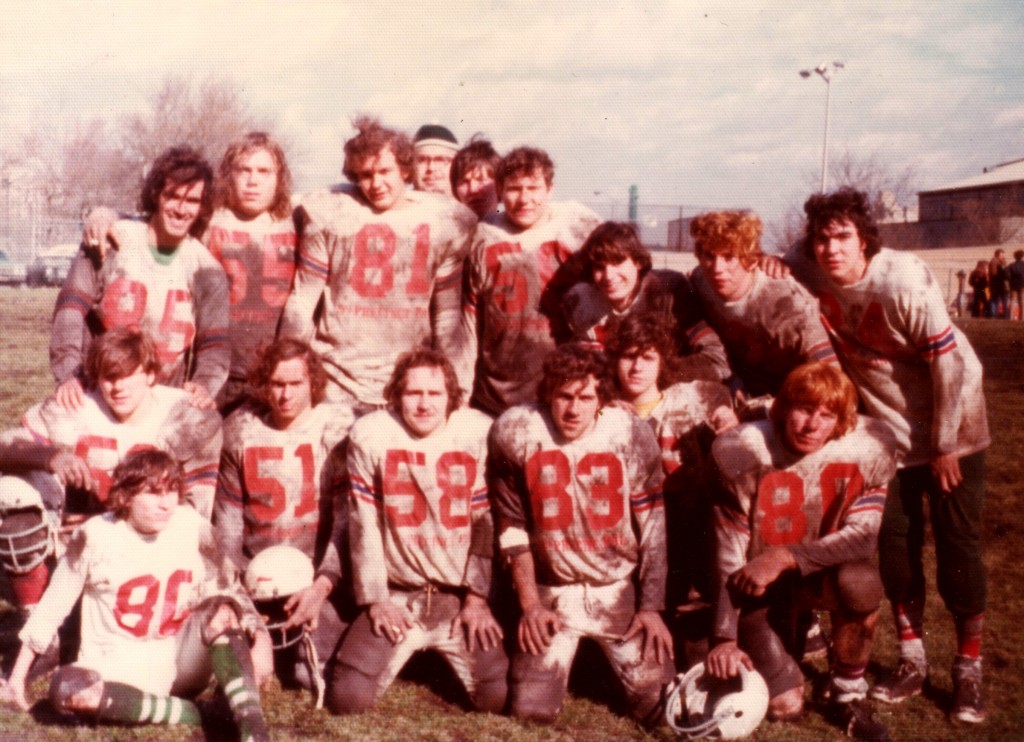 I'm looking, I'm looking, I'm looking,
Somebody help me find my baby!
You go, Wolfman…