Wednesday night at an unexpected location came an unexpected art show. Artist Peter Yip and Toy maker Berto Ray Barreto cultivated a Pop Up Toy Show at the Bao Shoppe on Steinway in Astoria. The show featured both seasoned and new toy designers, who brought to the show an amazing array of wholly one-of-a-kind toys.
Upon walking into the Asian fusion sandwich shop it looked like any of the small restaurants that make up Astoria. A look deeper into the spot revealed a long corridor beyond the seating and custom painted counter that seemed tailor made for the event. The white, narrow, high-ceilinged space felt just like a room in a museum aside from the delicious aromas that filled the air.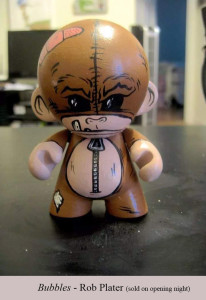 Once reaching this almost secret back room one was immediately greeted by Julissa Lopez's Mini Moi Toys. Lopez is one of the artists featured whose normal focus is toy design and it shows. Her creations were expertly crafted caricatures of famous musicians like Bob Marley and Rhianna in miniature toy form. The toys felt like cartoon characters that might at any moment escape their plexiglass constraints and mingle among the crowd.
Next was Chris Xydas's other-worldly, moss-ridden figures. Xyda represents the other group of artists in the show, those who created toys for the first time, specifically for this event. He typically works on intricate drawings that depict scenes of shapes, patterns and figures that are better suited for viewing than describing. Yip asked Xyda to take part in the show after meeting him on mass transportation. Yip had noticed the detailed work that Xyda was somehow able to create on a moving subway car and was driven to know more about the man. A friendship ensued and when the toy show idea came up Yip reached out to the creative Xyda to see if he was up for a new medium. Xyda dove right in to the project and created three magnificent creatures, two of which were sold before the opening night ended.
From there was an excellent mix of toys. Ranging from boxed toys that looked as if you'd find them in some sort of twisted Toys R Us to the graffiti covered piece from street writer Joshua Elias.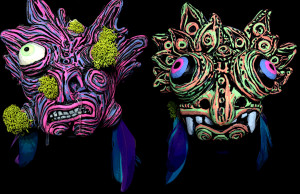 Each one seemed to represent a piece of it's artist's personality. The amount of time and skill that was put into each and every piece made it easy for anyone to appreciate whether familiar with the world of custom toy design or not; a fitting outcome given the nature of the show and the artists involved.
The show was an obvious success with several pieces selling and a regular crowd of people passing through from the moment it opened until about a half an hour after it was supposed to close. The work will remain at The Bao Shoppe, located at 30-66 Steinway, for the next month so if you've got a chance make your way there. The opportunity to see such intricate and unique work while enjoying a meal is not likely to come up again soon.
Slider Images Provided By Angie Vasquez

Below is a list of all the artist's featured:
Berto Ray Barreto
Chris Xydas
Danielle Draik
Frank W.
Hector Calicdan
Joeru Sama
Jose De Olio
Joshua Hernandez
John Carl Martin
Julissa Lopez
Mari San
Moth De La Cruz
Peter W. Yip