Last night at Culture Fix in the Lower East Side a long journey for two artists ended with an impressive show of their respective works. The event held by Pop Up Art Event featured the work of English artists Hayley Welsh and Andy Faraday, a couple who traveled from their home in Australia to San Francisco bought a school bus and made a road trip across the country.
The dark location on Clinton Street had the feel of a speak easy. One had to walk down a flight of stairs to enter the sparsely decorated 15-seat bar. A long list of fancy beers felt a little overpriced for the setting but they were good. Through the back of the bar up a short ramp one exited the unlit bar and entered a bright white, high-ceilinged, exhibition space featuring "Little Voices", Hayley Welsh's show.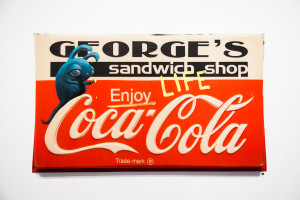 Welsh is young but already an accomplished illustrator with obvious technical ability and a unique style. Her work can best be compared to Mark Ryden's, featuring big-eyed creatures that are so cute they can't be trusted; an ominous softness.
For this show, Welsh decided to create a series of original paintings using found objects from their road trip as canvases. Her choice of objects and the way she incorporated her work into them was masterful. From street signs to license plates to old luggage Welsh turned what most of us would see as trash into wonderful works of art. A few of her pieces were even painted over top of old found paintings, in which she seamlessly incorporated her unique characters into the preexisting settings. What made the work even more amazing was the fact that Welsh created many of these works in a moving bus.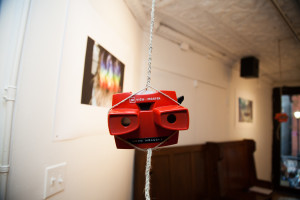 From there, up a short flight of stairs was the work of photographer Andy Faraday in his show titled "Paramour". What stuck out immediately were the series of Viewfinders hanging from the ceiling on twine. Faraday filled these Viewfinders with his series of photographs, the focus of most being women. The nearly-30 photographer has an eye for light and in the best of his work he is able to use and manipulate it powerfully.
Another standout exhibition from Juliet Silva-Yee's Pop Up Art Event with two interesting and talented artists. The show runs through June 14th, get there. More info about the event can be found on Pop Up Art Event's homepage.
All images used in this article were supplied by Daniel Martinez of MP Photography