Find the Perfect Gift Painlessly
Finding the perfect gift for the person who has everything is one of the most frustrating parts of the holidays, or any gift giving situation. You scour through catalogs, pour through online shops, and walk endlessly from store window to store window hoping the perfect gift will jump out and shout "here I am."  Well it doesn't always have to be that difficult. If your gift receiver doesn't already have a collection started, then start one for them. A huge advantage to doing this is that you can will now have the perfect gift to give for every occasion.
Then there is the person that has everything and regardless of what you give them, they don't seem to really appreciate the gift. You think it will probably end up in a closet somewhere or wrapped up to re-gift. Luxury gifts almost eliminate both of those possibilities. Gifts like this are for display and owners are proud to show them off. Herenden figurines come to grow on that less enthralled person and he/she will look forward to growing their beautiful collection.
Herend Figurines as Collectible Gifts
Herend figurines are sought after collectibles and are beautiful accent pieces for any home. Like all great collectibles, the Herend pieces come with a story. The Herend Manufactory in Hungary was founded in 1826 but the porcelain figurines did not become popular worldwide until about 1858. Its popularity stemmed from a company artist who took a fish-scale design he had seen on a Chinese plate, and applied it to a rooster figurine to give it the look of feathers. This design became the signature design for Herend figurines. Since then this design has been applied to "hard-paste"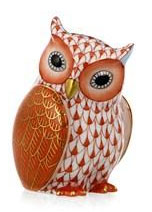 porcelain animals such as cats, dogs, tigers, lions, roosters and several other barnyard type animals. The most popular color for this pattern today is blue, although it originated in black.
The novelty of these types of figurines range from animals to angles, and many variations of each. Each is enduring in its own way and they have personalities to suit everyone. That means that you most likely will not be buying something they already have.
Halcyon Days
Herend figurines aren't the only option for the chance to give a unique gift. Warm sunny days and bicycle rides bring back some of the memorable days of youth when you spent afternoons playing baseball at the park and headed home just as the sun set. The halcyon days of another time when life was still simple.
The phrase Halcyon Days is rooted way back into ancient Greece. The legend is worth reading about, but in short, the present day meaning of Halcyon Days refers to a nostalgic, happy and successful period in the past.
Inspire those memories with Halcyon gifts like Halcyon bangles, collector's boxes, trinket trays or tea sets. The Halcyon Days Collection contains a variety of personal,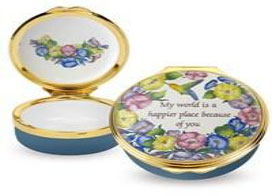 practical and luxury gifts that compliment any interior.
Occasions for Luxury Gift Giving
Trying to find a gift for the couple that has decided to get married after they have lived together for 5 years and have acquired everything they need is almost impossible. Again, go with collections, do they have any? If the answer is no, fine china is a practical and beautiful beginning. The couple can add to the collections themselves over the years, or receive pieces as gifts from friends and family.
Valentine's Day, the day your sweetheart expects something extra special, is looming ahead. Sometimes candy and a teddy bear just don't hold the same meaning, especially when it's been your go to gift the last few years.  Flowers are nice, but it is hard to justify the cost when they will be wilted and dead in a week. You want something that says I love you, you're special to me. Something that will show her she/he is one of a kind. luxury gifts especially with so many styles to choose from, are thoughtful and make perfect keepsakes.  Look through the collections and find something that expresses your love, or reflects their personality.
Mother's Day, Father's Day, Religious occasions, and of course the obvious Christmas and birthdays, are all occasions that adding to a collection makes gift giving easy and meaningful. Young women especially love to collect almost anything, figurines and tea sets are popular choices and will grow with her over the years.
Finding the right gift for the person who has everything, the person who grunts they don't need anything and the other special people in your life can be a painless, enjoyable experience. Select a collectible line, or a unique gift and you can't go wrong. It will even come to grow on the person who doesn't seem to like anything at all.